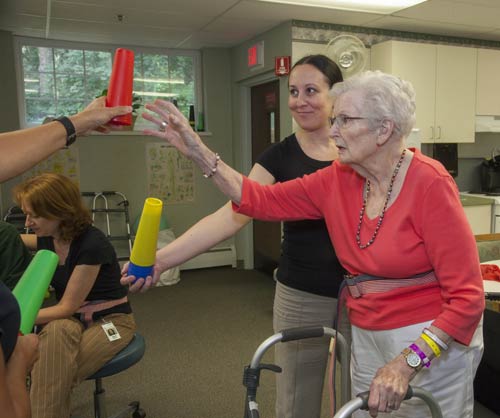 What Is Short-Term Rehab?
The purpose of short-term rehab is to improve a patient's physical strength and ability to accomplish everyday tasks after an acute injury or illness. Patients who have been discharged from local hospitals, but need further rehabilitative care are welcome in our 30-bed, dedicated rehab unit at Avon Health Center. Among other conditions, we offer short-term rehab stays to those who have experienced any of the following acute traumas:
Neurological disorders: Stroke, balance disorders, Parkinson's Disease, etc.
Orthopedic rehabilitation: Fractures, orthopedic injuries, joint replacements, etc.
Amputations and prosthetic rehabilitation
Accident trauma
Corrective surgery
Cardiopulmonary rehabilitation
Arthritis
Nutritional deficiencies
Wound Care
We provide specialized recovery care, such as pain management, intravenous antibiotic therapy, wound care and more. Patients and their family members will work with members of our Rehabilitation Team, which consists of the following experienced professionals:
Physicians
Physiatrists
Physical Therapists
Speech Therapists
Occupational Therapists
Dieticians
Nurse Practitioners
Registered Nurses
Certified Nursing Assistants
Social Workers
Discharge Planners
Our Approach to Short-Term Rehab
Avon Health Center understands the importance of finding a reliable recovery center for a loved one. For those who require the skilled care of a compassionate nursing staff to recover from an acute trauma, our commitment to rehabilitation and wellness sets Avon Health Center apart. Our staff is devoted to helping its patients reach their recovery goals in a timely manner within a safe environment. Patients will have access to state-of-the-art equipment and our experienced rehabilitation staff seven days a week, who will work with them to help regain skills lost due to their short-term illness or injury. These skills include:
Personal care
Home management
Meal preparation
Transfer and gait training
Therapeutic and balance exercises
Restorative feeding
Swallowing and speech retraining
Our patients on the rehab unit enjoy complementary cable television, Wi-Fi and telephone service.
Post-Care
Our patient care does not end upon discharge. Prior to discharge, the Rehabilitation Team at Avon Health Center can conduct a home assessment to ensure maximum safety and mobility for the patient. We will recommend any modifications or equipment needed to better facilitate the transition from our recovery center to home.