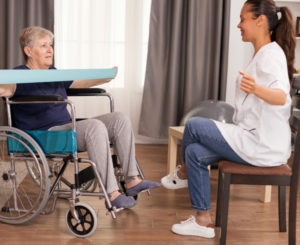 Activities Offered
At Avon Health Center, individuals are encouraged to maintain an active lifestyle. Under the direction of our Recreation Director, recreational programs are abundant and diverse. The purpose of these programs is to promote good, old-fashioned fun.
Many families are delighted to visit and find their loved one returning to activities they have enjoyed all their lives or trying something new. There are plenty of programs to choose from; perhaps oil or watercolor painting or a class of Tai Chi. Individual preferences and needs are always considered by our Recreation Director.
Recreation & Events
We post a recreation calendar on a monthly basis to give individuals and their families an idea of what activities can be expected at Avon Health Center.

Our Recreation Department will always attempt and are happy to accommodate special interests. We often recruit the help of knowledgeable individuals who can help make those special interests a reality at our facility. We also have over 100 talented community volunteers with varied backgrounds who help to enrich our residents' quality of life.
Our activities include, but are not limited to:
Art classes
Exercise classes
Religious services
Intergenerational activities
Musical entertainment
Lectures
Parties at which residents may entertain their families
Library on Wheels
Holiday craft fair
Ceramics and craft programs
Discussion groups
Poetry and drama groups
Dementia based programs
Outdoor lawn concerts and special programs for the community
To learn more about our Therapeutic Recreation Services
Contact Us Today