As a 5-star CMS rated facility with an excellent reputation in the community, Avon Health Center is looking for caring people to provide the quality care we are known for to our residents.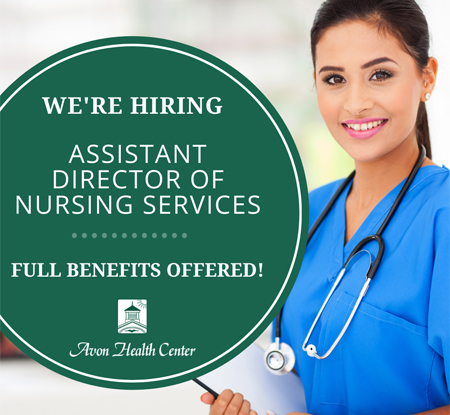 Job Details
The primary purpose of your job position is to assist the Director of Nursing Services in planning, organizing, developing, and directing the day-to-day functions of the Nursing Services Department in accordance with current federal, state, and local standards, guidelines, and regulations that govern our facility, and as may be directed by the Administrator, the Medical Director, and/or the Director of Nursing Services (DNS), to ensure that the highest degree of quality care is maintained at all times.
As the Assistant Director of Nursing Services (ADNS), you are responsible and accountable to carry out assigned duties. In the absence of the Director of Nursing Services, you are charged with carrying out the resident care policies established by this facility. As the ADNS, you will report directly to the DNS.
Compensation & Schedule
Salary Range: $90k-$105k
40 hours (Monday-Friday)
On call required
Full Benefits
Educational Requirements
At a minimum, must possess a Nursing Degree from an accredited school of nursing, college or university. B.S.N. preferred. Must be CPR certified.
Experience
A minimum of 1 year experience in a hospital, long-term care facility or other related health care facility is required.