As a 5-star CMS rated facility with an excellent reputation in the community, Avon Health Center is looking for caring people to provide the quality care we are known for to our residents.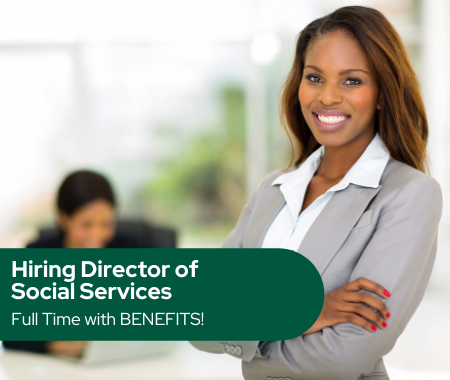 Job Details
The primary purpose of this full-time position is to plan, organize, develop and direct all required social services to meet the needs of our Residents in accordance with federal, state and local standards, guidelines and regulations and as may be directed by our Administrator to assure that the medically-related, emotional and social needs of our Residents are met and maintained on an individual basis.
As the Director of Social Services, you are responsible for and accountable to carry out your assigned duties and you will report directly to the Administrator.
Duties Include (but are not limited to):
Oversee the Social Services Department
Coordinate & monitor resident care conferences
Complete documentation in a timely manner
Coordinate residents' personal needs in the role of Advocate
Support staff in relation to resident-related issues
Work with individual residents, responsible parties and families towards adjustment to placement and to crisis (i.e. illness, disability and death)
Job Requirements
Must possess the ability to seek out new methods and principles and be willing to incorporate them into existing Social Services practices.
Must be able to relate information concerning a Resident's condition/incident to the Interdisciplinary Team as appropriate.
Must have patience, tact, cheerful disposition and enthusiasm, as well as being willing to handle Residents based on whatever maturity level in which they are currently functioning.
Must have the ability to deal tactfully with personnel, Residents, family members, visitors, government agencies and general public.
Must be able to make independent decisions when circumstances warrant such action.
Experience Required
Minimum of one (1) year social work in a hospital, skilled facility, or other health-related field.
Education: Must have BSW or MSW
Benefits Offered*
Health, Dental & Vision insurance
Free Telehealth / Telemed
Free Short Term Disability
Free Basic Life Insurance
Free Accident Death/Dismemberment Insurance
Voluntary benefits including Life, Hospital, Accident, Critical Illness & Disability coverage through Colonial Life
Direct Primary Care (DPC)/Tax Savings Program through HealthCare2U (including free Telehealth)
401k/401k Roth with company match
Paid Time Off (PTO)
Paid Holidays
*To eligible employees based on hours and length of service