As a 5-star CMS rated, family-owned and operated facility with an excellent reputation in the community, Avon Health Center is looking for caring people to provide the quality care we are known for to our residents.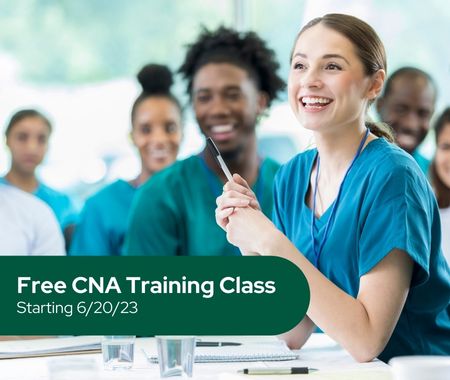 How It Works
Avon Health Center will sponsor qualified candidates to attend a 2 Week CNA class upon completion of the interview process, successful background check, and pre-hire requirements. The class & clinical will all take place at Avon Health Center. Upon completion of the course and successful CNA exam, you will begin employment in a full position.
Classes are Tuesday 06/20/2023 through Thursday, 06/29/2023 (weekdays) from 8am – 5:00pm and Clinicals are Friday 06/30 and Monday 07/03 from 7am to 7 pm. You must be able to attend all classes and clinicals. Upon completion of the classes, you will be required to schedule your state exam immediately. Applicants are responsible for the exam fee.
Upon acceptance into the CNA sponsorship program, you will be required to sign an employment agreement with Avon Health Center which will require you to work a minimum of 32 hours per week for a minimum of 12 months.
Compensation
$17.75/hour upon hire
$1.00-$1.50 shift differentials (3-11 and 11-7)
---
For further information, please send email to beacnact@gmail.com and specify Avon Health Center.