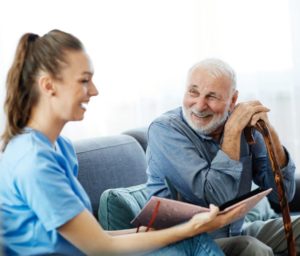 When your loved one has Alzheimer's disease, the decision to place them in long-term care can be difficult. Ideally, you would prefer to keep them at home in a familiar environment to help decrease distress.
Yet memory care communities keep patients experiencing the later stages of this disease safe, with specially trained nursing staff.
As you research long-term care and the support it can offer your loved one with Alzheimer's disease, think about the following factors.
Alzheimer's Disease Progression
Alzheimer's disease has three distinct stages and can persist for a decade or longer. In the early stages, individuals can usually live independently with minimal assistance, yet issues with decision-making or memory may start to emerge.
These factors become more pronounced during the disease's second stage. At this point, your loved one has a higher risk for wandering and deteriorating physical health.
Late-stage Alzheimer's disease significantly impacts functionality. Your loved one may have lost the ability to communicate, experience more serious health concerns and require constant supervision.
While you might have additional support from family, assess how much and the type of assistance required:
Performing activities of daily living (ADLs). How well is your loved one able to dress, bathe, use the bathroom or cook on their own?
Health concerns. Mid to late-stage Alzheimer's can affect your loved one's health, increasing risks for incontinence, pneumonia and other infections. You may also notice your loved one gradually starting to lose mobility.
Behavior changes. Characterized by cognitive decline, Alzheimer's can alter behavior. You may find your loved one has become verbally or physically aggressive and has delusions or hallucinations.
Safety concerns. How frequently does your loved one get lost? Wandering increases risk for a fall and potentially life-threatening complications.
Recognition of loved ones. Patients in the late stages of Alzheimer's may no longer remember family and friends. This can lead to a rejection of your care or paranoia.
Supervision and Safety Concerns
Evaluate how much supervision your loved one needs. The amount tends to increase during the middle stages of the disease. Without proper supervision, your loved one:
Risks leaving the stove or gas on
Has a higher chance of a slip or fall injury
Is more likely to wander or get lost
Also consider the type of supervision needed. You can make modifications to the home and provide assistance with activities of daily living. However, long-term care may be needed if they have multiple wandering incidents, have experienced at least one fall, or require physical assistance for ADLs.
Resources and Support Available
As you evaluate these factors, map out the resources your loved one requires. Ask yourself:
If you can provide the support and care your loved one requires as the disease progresses.
If other family members or loved ones can provide the multiple forms of assistance needed.
About the safety of your loved one's home, including its current state and with modifications.
About your physical strength and if you'll be able to help your loved one with showering, dressing and other ADLs.
If you have your own resources for socialization, stress, emotional support and the time to devote to caregiving.
As you consider solutions for long-term care, learn how Avon Health Center can support your loved one. Contact us today.