The decision to place mom or dad in a skilled nursing facility is hard on the whole family, but oftentimes it can be the best decision for everyone involved. If you're currently acting as the primary caregiver for your aging loved one or you've hired in-home help, you may begin noticing subtle changes that make you wonder, is it time to make the transition to a nursing home?
What are some of the telltale signs that your loved one could benefit from skilled nursing care?
1. The In-Home Care Provided Is No Longer Enough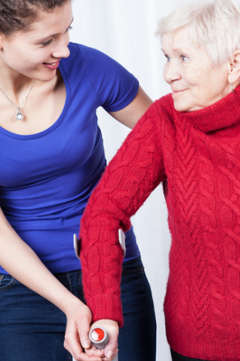 If your loved one is recovering from an acute injury or illness, we often find that these types of patients are able to return to their previous lifestyle after a short time. However, more serious injuries and progressive diseases require more comprehensive care. If your loved one's health has become too complicated for you or an in-home caregiver to provide, it could be time to consider a skilled nursing facility like Avon Health Center. When the ability to perform Activities of Daily Living is diminished or lost, we're here to provide round-the-clock care.
2. The Living Environment Is Unsafe
Safety is extremely important as we age. When older individuals are living in their own home, with or without the assistance of a caregiver, there is always the chance that an accident could occur when no one is around. If you can't afford the expensive equipment installations and modifications needed throughout the home to keep your loved one safe at all times, a nursing home eliminates the need for such extreme renovations.
3. There Has Been a Serious Accident or Diagnosis
A traumatic slip and fall injury or dementia diagnosis are two very good reasons to consider skilled nursing care. As we age, we become more prone to falls that can break bones and lead to further complications. A state-of-the-art facility like Avon Health Center has slip resistant floors, handrails and grab-bars to help residents be more mobile without the need to worry. If your loved one has been diagnosed with dementia, the disease may cause him or her to wander or become aggressive. The drastic changes in behavior can be hard for family members to cope with, especially as the primary caregivers.
4. You're Experiencing Caregiver Stress
Although caring for an aging loved one is admirable, it can take a physical and emotional toll on your wellbeing. Becoming frustrated with and even resentful of your mom or dad is the last thing anyone wants, but it happens to many caregivers. Tending to a loved one's every need can be stressful and potentially traumatic if you're unable to prevent an accident.
Looking for the right skilled nursing facility for a loved one? Learn more about admission to Avon Health Center today.