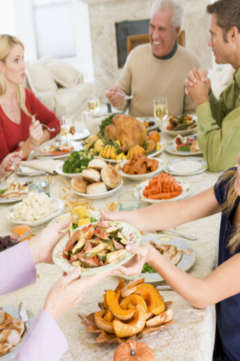 The holiday season can be a difficult few months for seniors. Many aging individuals have lost loved ones and friends, or feel isolated when no one visits this time of year.
The older generation plays an important role in the structure of a family. They should feel loved and appreciated around the holidays. We offer 5 tips to help you do that this year!
1. Give Them a Thoughtful Gift
Gift giving is a holiday tradition that shows another person how much he or she means to you. This year, take the time to find a meaningful present for your older loved one. If you have children, handmade gifts can bring even more holiday cheer than a store bought one!
2. Make a Homecooked Meal
As we age, we lose our taste buds. Foods we once loved can lack flavor and make holiday eating less indulgent. Remind seniors of the special tastes of the season by using natural ingredients and spices in your cooking. Remember to make food easy to chew and swallow.
3. Practice Their Traditions
This time of year, feeling of depression can arise. In response, make a point to practice time-honored family traditions – even if they are not your favorite. The holidays are about making other people happy and your older family members will likely love a chance to reminisce!
4. Accommodate Their Needs
Many of us are prideful and may hesitate to ask for help to avoid appearing dependent. However, asking is better than trying to do something dangerous on your own and getting injured. Encourage your older loved ones to speak up and always be attentive to their needs.
5. Table Difficult Discussions
Unless your loved one's health is in critical condition and professional care is needed right away, table any tough conversations until after the holidays. Some seniors can resist moving into a skilled nursing facility and bringing up the subject may only serve to upset them.
The holiday season is a time to spend with family and friends. Cherish the moments you have left with everyone! For more advice about positive communication with your aging loved ones, Avon Health Center is your community resource. Contact us today!