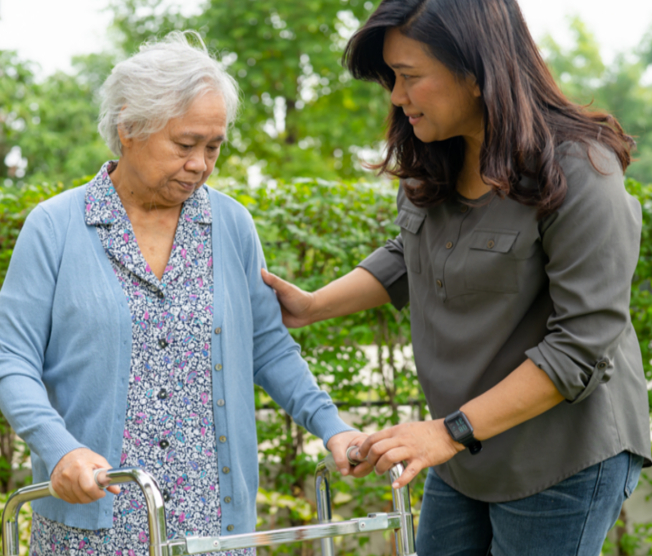 According to Family Caregiver Alliance, more than 34 million Americans have provided unpaid care to adults over 50 in the past 12 months. Another 15 million have cared for a family member with Alzheimer's disease or another form of dementia in the past year.
Whether you're a professional caregiver or have taken on this responsibility for a loved one, the number of older adults in need of assistance continues to increase. In fact, the U.S. Census Bureau projects that one in every five Americans will be retirement age by 2030.
Meanwhile, the overall health of caregivers is starting to decrease. Caregivers spend a significant amount of time caring for others, often neglecting their own physical and emotional health in the process. Learn more about preventing caregiver burnout.
Signs of Caregiver Burnout
The Cleveland Clinic defines "caregiver burnout" as a state of physical, emotional and mental exhaustion. Signs include:
Irritability, anxiety or hopelessness
Changes in weight, appetite or both
Lost interest in favorite activities
Withdrawal from friends and family
Getting sick more often
Changes in sleeping patterns
If you're experiencing any of these symptoms of caregiver burnout, consider the following tips to help prevent further problems.
1. Join a Support Group
When you're struggling, it can be most effective to confide in those who have been in a similar situation. Joining a caregiver support group allows you to share your feelings with others who understand your unique experiences. A support group also provides resources to help caregivers manage stress and reduce feelings of frustration or hopelessness.
2. Ask For Additional Help
Psychologically speaking, it can be difficult for people to ask for help because it requires relinquishing control to someone else. As a caregiver, you may think asking a friend or family member for assistance would be a burden or make them think less of you.
Yet it's important to remember no one can do this job alone. Simply having someone run a few errands for you while you take your patient to an appointment can be helpful.
At Avon Health Center, we have the knowledge and tools to help you care for the older adult in your life. Staying informed about a loved one's disease, illness or disability can make your responsibilities a little easier and less stressful. Whether you're in need of medical services, rehabilitation resources or advice, you can communicate with our professionals.
3. Take a Break
Everyone needs a break once in a while to rejuvenate both physically and emotionally. For caregivers, the occasional pause can be crucial to overall wellbeing. Taking 30 minutes a day to meditate, exercise or read can make a huge difference! Most importantly, breaks help decrease stress, anxiety and frustration created by caregiving tasks.
A short getaway may be just what you need! If you've decided to take a breather, Avon Health Center can provide a comforting environment for your loved one while you step away for a few days. Our respite services provide the comprehensive, individualized treatment your loved one needs.
4. Be Realistic
Depending on a person's needs, there may come a time when skilled nursing is necessary. Progressive diseases like Parkinson's and Alzheimer's could require assisted living outside the family home. It's important to understand disease symptoms and the signs that medical intervention is needed to ensure the person you are caring for remains safe.
Free Resources for Caregivers
You're not alone! Here are some free resources to help throughout your caregiving journey:
For more questions or help caring for your loved one, contact Avon Health Center today.