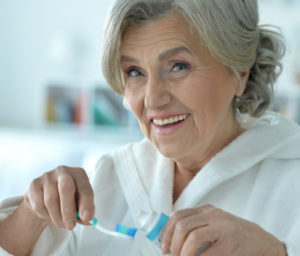 Personal hygiene is important at all stages of life. Taking care of your body is essential for keeping yourself clean and healthy. Unfortunately, it's common for older adults to forget or neglect their personal hygiene – especially those with a loss of cognitive functioning.
Establishing a step-by-step routine can help prevent illness and also be a great way to keep senior minds active each day! Here are a few tips to get started.
Dental Care
According to the Centers for Disease Control and Prevention (CDC), one in five adults aged 65 or older have untreated tooth decay and two in three have gum disease. Specifically, gum disease may increase risk of stroke, diabetes and heart disease. If your aging loved one still has natural teeth, they should be brushing twice a day and flossing at least once a day.
Consider an electric toothbrush, which can remove 21 percent more plaque than a traditional toothbrush. This can be crucial for seniors who may be taking certain medications that cause plaque buildup. Also look into different toothpaste options, depending on the current state of their oral health.
The CDC also reports that nearly one in five seniors has lost one of their teeth. If this loss has resulted in the use of dentures, it's important to take care of them correctly. Dentures should be brushed at least once daily and, if you have a removable appliance, completely cleaned at night. To prevent dryness, soak them in warm water overnight.
Skin Care
As we age, our skin becomes thinner, less elastic and more fragile. As such, having a proper skin care routine can make a big difference for seniors! Applying a daily serum like retinol helps regulate skin cell turnover, which can improve the appearance of lines and wrinkles.
No matter your age, it's important to wear sunscreen every day to protect yourself from UV rays – even on cloudy days. Due to the more sensitive state of their skin, seniors should consider a higher SPF for increased protection.
We also experience a natural decrease in the production of oils with age, so dry skin is a common issue among seniors. When choosing a cleanser, stay away from products that do not maintain the skin's moisture. Find a cleanser containing hyaluronic acid or glycerin and finish off your routine with a moisturizer safe for fragile skin.
Regular Bathing
Bathing may become more difficult as we get older, yet it's crucial to stay clean and prevent body odor. Showering daily is great but not essential to maintain good health. Seniors should bathe at least twice a week to stay fresh and avoid infections.
For those with mobility issues, shower chairs can make the bathing experience much easier. They also provide seniors with more independence and privacy when cleansing. Use warm water and a skin-sensitive washcloth to keep infections and odors from developing.
Need Assistance?
If your loved one is suffering from a physical disability, chronic illness or memory loss, it may be difficult for them to maintain a proper hygiene routine on their own.
At Avon Health Center, we offer long-term care services to help seniors accomplish activities of daily living like dressing, bathing and eating. Our goal is to provide your loved one the highest quality care, while helping them maintain as much independence as possible.

To find out if long-term care is the right choice for you or a loved one, contact us today.