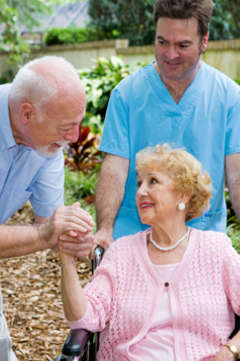 When seniors seek skilled nursing care, they may have preconceived notions about the facilities. Their families can also be concerned about sending mom or dad to stay in a nursing facility because of the common myths that have become associated with skilled care.
We debunk five of the most common myths about skilled nursing facilities.
1. "I will lose my right to make decisions."
When you are admitted to Avon Health Center, there is no signed document that surrenders your right to make decisions about care, facility activities or meal choices. In fact, it is your legal right to dictate treatment, unless you have shifted that responsibility to a loved one. In addition, there is a comprehensive Resident Bill of Rights that is shared with every resident.
2. "I will lose my independence."
Contrary to popular belief, skilled nursing facilities differ greatly from hospitals. Although your level of activity will depend on your health condition, we encourage residents to participate in small group facility activities and events involving family members.
3. "I will never be able to leave."
At Avon Health Center, residents are discharged every day. Seniors who need short-term rehabilitation stay with us for a matter of days or weeks, while residents who have lost the ability to perform Activities of Daily Living stay for a longer period of time.
4. "Skilled nursing facilities are lonely."
As mentioned, Avon Health Center residents are encouraged to spend time with others in art and exercise classes, discussion groups, lawn concerts and parties with their families. Our Recreation Department does not limit activities and dementia-based programs are available for those with more progressive health conditions.
5. "Skilled nursing is assisted living."
Most nursing facilities are certified by Medicare and Medicaid to provide skilled nursing care to residents 24 hours per day; assisted living facilities are not. At Avon Health Center, seniors receive more individualized attention than assisted living facilities, from rehabilitation to nutritional needs.
If you or a loved one needs skilled nursing care due to an injury or illness, contact Avon Health Center for more information about our facility!