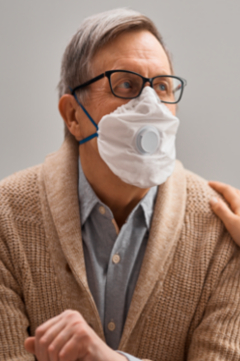 People suffering from dementia may be at increased risk for contracting the Coronavirus (COVID-19). In response, caregivers are instructed to closely follow safety measures outlined by the Centers for Disease Control and Prevention (CDC) and the World Health Organization (WHO) to prevent any issues that might arise from this outbreak.
Unfortunately, as a result, those with dementia may be feeling more isolated and confused.
Challenges for Caregivers
A recent report from the Alzheimer's Association showed 16 million Americans are providing unpaid care to dementia sufferers.
Especially during these uncertain economic times, this has put extra stress on many families providing at-home care. What other complications may caregivers face?
Adjusting to Change
Those suffering from dementia can have a hard time with change. For caregivers, one obstacle is how to properly handle small adjustments brought on by COVID-19, without disrupting the daily routine.
When dealing with advanced memory loss, a schedule offers a sense of normalcy. Yet, if the caregiver's own schedule has been affected by the virus, doing so can be difficult.
Do your best to maintain a consistent daily agenda for those with dementia. Set times for eating, bathing, exercise and sleep to help maintain order during this stressful time.
Watching Over Their Health
Considering that most people with dementia are in the at-risk age bracket, caregivers should be going above and beyond the CDC and WHO recommendations to ensure their safety. Regularly disinfect surfaces, wash your hands and keep a distance from others to help ward off the Coronavirus.
Strict sanitation rules are necessary, as caregivers have to be in close contact to help with their loved one's activities of daily living. Helping with ADLs like dressing and bathing requires close physical contact. If the person you look after also has chronic conditions, be even more diligent to stop the spread of germs.
Avoiding Stressors
Also limit the person's exposure to troubling news reports, which can cause undue stress and panic. Create a relaxing environment and make sure familiar faces keep in touch through video chats and phone calls.

At Avon Health Center, we understand how the Coronavirus has been affecting families and their older loved ones. For resources and support, contact us today.