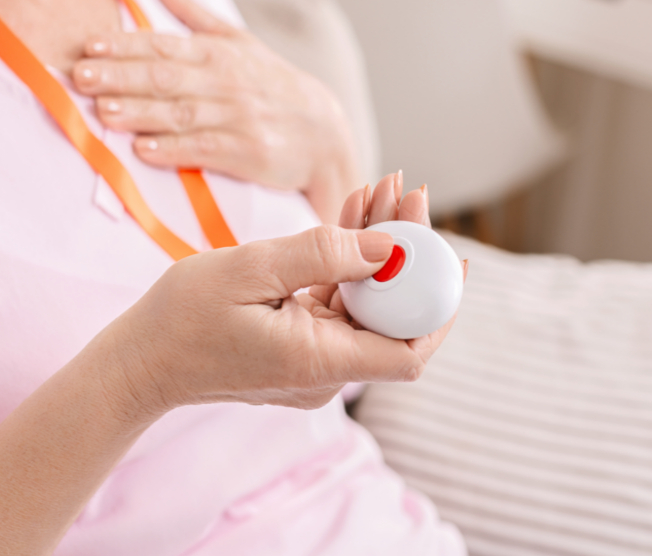 Are you or a loved one feeling unsafe living alone? A medical alert device is a great tool for keeping seniors protected in the event of an accident, fall or illness. Not only are these devices affordable but their function can be priceless.
In-home medical alert devices help ensure the safety of seniors at risk for potential injuries or dangerous behaviors. Certain mobile medical alert devices can extend their range outside the home, which can be especially beneficial for dementia patients prone to wandering.
If you're considering a medical alert device, we explore several benefits.
How These Devices Work
A medical alert device is easy to use, especially for older adults who may not be tech savvy. They come in many forms, including necklaces, bracelets and key chains.
Each device has a button that sends a signal to emergency services and emergency contacts when pressed. Medical alert devices do not require Wi-Fi or a landline to function properly.
Help Available 24/7
Having a medical alert device provides you 24/7 emergency care with the push of a button. If you experience a major fall, this device can dispatch an ambulance, police or fire services immediately. Even if the incident does not require medical attention, you are able to alert family members within seconds!
According to the Centers for Disease Control and Prevention (CDC), one in every three adults over the age of 65 experiences a fall or accident each year. A medical alert device may be what saves your loved one's life.
Ease of Use
Get help when you need it with a medical alert device. They provide a quick way to communicate during an emergency, without having to reach for the phone or yell for help. If you find yourself in a compromising position, having a medical alert device on your person could notify your contacts without causing further injuries.
Some medical alert devices have features that detect hard falls or hear specific phrases and immediately calls for help, without needing to push any buttons.
Peace of Mind
Many seniors want to keep their independence as long as possible, yet loved ones may be worried about older family members living on their own. Having a medical alert device can keep your mind at ease.
Knowing there is an easy and efficient way to get help in case of an emergency may allow healthy seniors to continue their daily tasks and activities, without constant supervision.
Communicate with one another about who should be added as emergency contacts on the device. Whether it's family members or friends, having reliable contacts to alert can help give everyone peace of mind.

At Avon Health Center, we take the health and safety of our residents very seriously. For more information on medical alert devices or to learn about our services, contact us today.