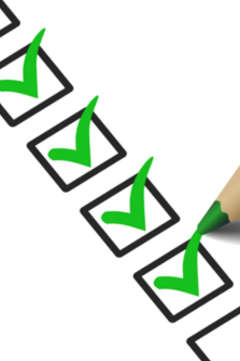 When the time comes to select a skilled nursing facility for an aging or ill loved one, all the available options can be overwhelming. The decision will ultimately come down to individual needs and personal preference, but the questions below may be used as a starting point to help ease the stress of this difficult choice.
Nursing Facility Checklist
Does the facility provide adequate care for my condition?
Perhaps the most important consideration in choosing a nursing facility is whether or not they provide all the services you need. Whether you plan to be a short-term rehab patient or long-term resident, access to medical professionals who can deliver the care you require to recover is essential in your decision.
What is the facility's CMS Star Rating?
The Centers for Medicare and Medicaid Services (CMS) 5-Star Rating is based on a calculation that includes three measures: Health Inspections, Staffing and Quality Measures. While reviewing skilled nursing facilities, be sure to check their star rating and inspection results. Besides these individual ratings, the facility also gets an overall star rating. A low rating in any of these categories is cause to ask additional questions.
What is the patient-to-staff ratio?
A facility may provide the care you need, but do they have the staff to deliver it at the highest-quality level? Even if a nursing home is adequately staffed, you and your family should review the credentials of the nurses and doctors to be sure your loved one's health is being placed in the best hands.
Is preventative care provided on-site?
Even when a skilled nursing facility can provide the high-quality care you need, other health issues can arise during your stay. Make sure a facility has an optometrist, dentist, podiatrist and other medical professionals available who can come to you on-site for regular check-ups, prescribe new medications and administer vaccinations if necessary.
Is the building safe and secure?
A common concern of older individuals and their families is the threat of theft in nursing homes. Will your personal belongings be protected and does the facility have a system to safeguard these belongings? In addition to the safety of your own possessions, does the building meet health, safety and fire codes? Are there precautionary measures like grab bars in the bathrooms?
What are the dining options?
Will your dietary needs and preferences be met? When you visit a nursing facility, inquire about menu selections and substitutions for those with certain health requirements. At Avon Health Center, our dining options are very flexible to ensure that our patients and residents enjoy their meals, while receiving the necessary nutrients.
Are residents encouraged to participate in activities?
When you're away from home, family and friends, life in a nursing home can become lonely. Does the facility you're considering provide its patients and residents with a varied recreation calendar? Social interaction with others can be crucial to acclimation and recovery within our facility.
Are you searching for a skilled nursing facility for yourself or a loved one? Avon Health Center could be the right choice for you! Contact us today to plan a facility visit!