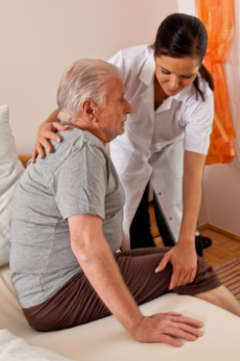 When someone experiences an acute injury or trauma and is released from the hospital, that person is not always ready to return home to independent living. At Avon Health Center, we offer skilled short-term rehabilitation services to patients just like this, who need a little extra help reaching a full recovery.
What is modern-day short-term rehab like at a skilled nursing facility?
Progressive Care
Short-term rehab benefits those who have experienced a stroke, vertigo or other neurological disorder, as well as motor vehicle accident victims and post-surgery patients. Our advanced transitional care services help these patients recover in a state-of-the-art facility with modern equipment and a customized treatment plan for their specific needs. In a modern nursing facility, patients have almost immediate access to nurses and medical specialists, unlike in an overcrowded hospital or while receiving in-home care.
Services Offered
Our short-term staff is committed to helping patients meet their recovery goals and improve overall wellness. When someone has been involved in an accident or fallen ill, it can be challenging to complete everyday tasks with the same level of independence as before. Our nurses, doctors and extended medical staff members work with these patients seven days a week to get them on a swift path to recuperation. Skills we work on include:
Personal hygiene, such as bathing and oral care
Swallowing and speech retraining
Self-mobility, like getting out of bed and walking
Housekeeping tasks, such as cleaning and cooking
Other activities of daily living, like feeding and dressing
All the while, our short-term rehab patients are able to watch cable television, use the internet and make personal phone calls to family and friends in a comfortable environment.
Upon discharge, our team will perform a complimentary home assessment to make sure the space is safe for independent living.
For reliable short-term care in a modern skilled nursing facility, contact Avon Health Center to learn more about admission!