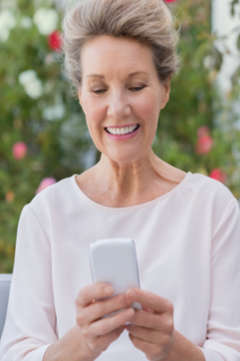 With more seniors immersed in the world of technology, it is easy for them to get overwhelmed by the possibilities at their fingertips. If your aging loved one has a smartphone or tablet, what kinds of senior-specific applications are most beneficial to use?
News & Events
When you are retired and possibly living on your own, there is more time to read. For seniors who like to stay connected to the outside world, real-time news apps can help them do that more efficiently. Whether he or she is looking to keep up with weather or local stories from a news outlet, some great choices include:
AARP: News specific to the senior community and upcoming events in the local area.
National Public Radio (NPR): Free access to radio broadcasts with text versions.
Yahoo! Weather: Easy-to-use weather tracking tools, like five-day forecast and local radar.
Savings Opportunities
Who doesn't enjoy saving money? Many of us clip coupons and sign up for emails from our favorite stores to receive exclusive discounts. When we reach age 65, it becomes much easier to score deals. For instance, a trip to the grocery store on a certain day of the week can get seniors 10 percent off their purchase. We recommend considering:
Groupon: This free app saves you money on what you do every day, including trips to restaurants, fitness centers and more.
Lyft or Uber: Rather than calling a cab for a ride to the doctor's office, this prepaid service can be more convenient for seniors who do not drive.
Senior Savings: Know before you go! This app tells you exactly which stores, restaurants and more offer senior discounts.
Location & Safety
As we age, slip and fall accidents become more of a concern. Other dangerous incidents include wandering off and medication errors. Two apps to try:
Find My iPhone: Apple users can download this app and connect with their family members in case a senior gets lost.
iPharmacy: Identify different pills, know the side effects of your medication, be reminded when it's time to take pills.
Communication
Unfortunately, when families live in different towns or states, in-person communication becomes scarcer. Your aging loved ones can keep in touch with you and the grandkids face-to-face with these smartphone aids:
Skype: If you do not have an Apple product to use FaceTime, Skype is another free video calling service that allows users to communicate with each other through a webcam on their cell phone or computer.
Words with Friends: This game is reminiscent of Scrabble, a pastime you might have enjoyed with your grandparents years ago. Seniors can challenge their family members to a friendly match and send messages back and forth throughout the game.
Smartphone apps make everything easier; why not introduce them to the seniors in your life? At Avon Health Center, it is our mission to provide a higher quality of living for the aging adult community. We act as a local resource to seniors and their families who have questions about growing older. Contact us today to learn more!