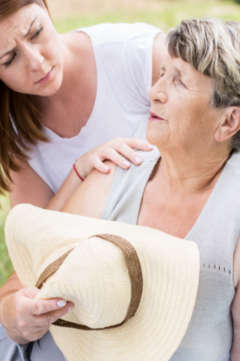 August is typically the hottest month of the year. Heat waves, high humidity and soaring heat indexes can turn nice summer days into potentially dangerous situations, especially for seniors.
Elderly people who spend too much time outside in hot temperatures are prone to several health effects, including hyperthermia – which encompasses heat syncope, heat cramps, heat edema and heat exhaustion – as well as heat stroke.
While you can't control the weather, seniors can take steps to lower the risk of suffering from a heat-related illness.
Why Are Seniors At Risk?
Statistics show that the majority of annual hyperthermia fatalities occur in people 50 and older. As we age, physical conditions place seniors in a higher risk category for heat-related illnesses. Older people with heart or blood vessel problems, heart, lung or kidney diseases and taking multiple prescriptions are at even greater risk.
Stay Hydrated
Drink plenty of liquids including water, fruit and vegetable juices. Avoid drinks that contain alcohol and caffeine, as these substances can dehydrate you.
Keep Rooms Cool
If your home doesn't have air conditioning, try to keep the rooms as cool as possible by limiting oven use, keeping the shades and blinds closed during the day and opening windows at night.
Take Shelter
If your house is getting too hot, spend time during the day at a public place like a movie theater, local library, coffee shop or another air conditioned place that will provide relief.
Additional Tips
Other ways to limit exposure to dangerous heat conditions include:
Wearing natural fabrics, such as cotton, that tend to be cooler than synthetic fibers
Avoiding outdoor exercise when the temperature is hot
Staying inside between 11am and 2pm, when the sun is strongest
Avoiding crowded places such as outdoor markets, festivals and sidewalk sales
When heat waves are predicted, make sure to check the specific weather forecasts and plan accordingly. For more senior health and safety advice, contact Avon Health Center today!