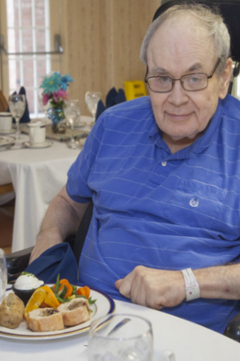 During September, many people partner with Feeding America's nationwide network of food banks to fight hunger. In America, millions struggle to make ends meet due to factors like underemployment, low wages and the rising costs of living. Every year, over 40 million people turn to the Feeding America network for extra support.
Who's Affected by Hunger
When we think about the topic of hunger, many of us think of starving children in third world countries. However, more Americans than you might imagine go hungry each day. Both children and adults face hunger in communities across our country, forced to make tough choices between buying food, paying medical bills and/or rent on time.
Food Insecurity for Seniors
One way to measure the risk of hunger is through food insecurity. Food security analyzes a household's ability to provide enough food for every person to lead a healthy life. According to Feeding America data, 5.5 million seniors were food insecure in 2017 – more than double the rate in 2001.
Uncertain access to nutritious food can have the following negative impacts on seniors:
Lack of nutrients, including iron and protein, which are important to senior health
Increased risk of health conditions, including diabetes, high blood pressure and heart disease
Limitations in Activities of Daily Living, such as eating, dressing and bathing independently
Food insecurity can also lead to difficult decisions for seniors. Often living on fixed incomes, older individuals may need to choose between paying for food and healthcare.
Feeding America is our nation's largest domestic hunger-relief operation. Donations and support from businesses, government organizations and individuals make it possible for Feeding America's network of food banks and meal programs to serve nearly every community in the United States.

Avon Health Center is a local resource for questions about senior health and aging. To learn more about our services, contact us today!