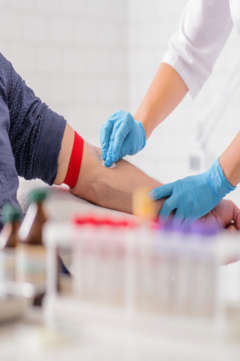 March is National Red Cross Month, an observance started after WWII by President Franklin D. Roosevelt. The Red Cross was founded by nurse Clara Barton in 1881 with a mission to "prevent and alleviate human suffering in the face of emergencies." Every eight minutes, the Red Cross responds to someone in need, an effort made possible by generous donors. Blood and fund donations help this organization make a difference in our communities. Are seniors able to donate blood to the cause?
A Common Myth
It is a common misconception that seniors are unable to be blood donors. According to the Central Blood Bank, approximately 38 percent of Americans are eligible to donate blood, but only about 10 percent take the time to do so. Seniors can be included in 38 percent, as long as they meet the eligibility requirements. Donor restrictions include:
Weight is less than 110 pounds
Received a blood transfusion in the last year
Determined to be in "bad shape" after a routine physical exam
Have a virus like HIV or meningitis from traveling abroad
Had hepatitis after age 11
Last donation was less than 8 weeks ago
If a senior has serious health complications such as cancer, that individual is not a good candidate for a blood donation. For patients with a mental disability like dementia, this practice is also not recommended – the experience may cause confusion or agitation.
Why Donate Blood?
Every two seconds, an American needs a blood transfusion. Whether it's an organ transplant recipient or a car accident victim in need, about 4.5 million people would die annually without a donation. If you are a healthy senior interested in giving blood during National Red Cross Month, visit their website for more information.

Avon Health Center is a community resource for the elderly and their families, who have questions and concerns about healthy senior living. To learn more, please contact us today!