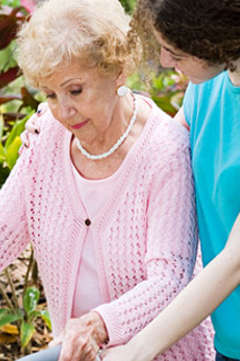 Spring is right around the corner and we can't wait to say goodbye to snow and ice! The new season brings opportunities to get outdoors and enjoy the activities we couldn't during winter. This is no exception for seniors, who can benefit from the fresh air and sunshine more than anyone.
What are some springtime activities aging adults can look forward to?
1. Nature Walks
The outdoors has many advantages for senior health. Vitamin D from the sun promotes a healthy brain, bones and muscles. One of the easiest ways to be active outside is walking. Explore the beauty that nature has to offer with a friend or visiting family member! Avon Health Center is conveniently situated near the Farmington River, a great scenic location for a stroll.
2. Seasonal Decorating
Once the dreary winter season passes, we want to open our curtains and reintroduce color to our lives! Seniors can beat the winter blues by decorating their rooms with bouquets of faux flowers and pastel colors for Easter. However, make sure to avoid any seasonal decorations that could present a trip hazard.
3. Fishing
Even for seniors who are immobile, fishing is a fun springtime activity that can be enjoyed safely. Choose a location that is wheelchair accessible and let your aging loved one cast from
the dock or pier. Fishing is a low-impact activity that can be relaxing to enjoy as a group.
4. Gardening
There are many benefits of gardening, including stress relief and joint strengthening. Seniors can discover their green thumb in our garden, where we grow herbs and vegetables that are used in our kitchen! For seniors who are not mobile enough for gardening, a visit to a nursey allows these individuals to look at a beautiful selection of flowers.
5. Birdwatching
Did you know experts estimate that 9,000 to 10,000 species of birds exist in the world? Birdwatching is a popular wildlife observation activity that is easy for anyone to start. The best way for seniors to begin? Ask a loved one for a bird feeder to put outside the window!
6. Swimming
There is nothing quite like a dip in the cold pool on a hot day. A low-impact exercise regimen like water aerobics is great for heart health. If the swimming pool is outdoors, seniors should always wear sunscreen – SPF 50 or higher to protect against 98 percent of UVB rays – and a hat to help prevent skin cancer.

At Avon Health Center, we have a rotating therapeutic recreation calendar. With activities changing each month, there is always something fun for our residents to try. If you're seeking a skilled nursing facility for your aging loved one, contact us today to learn more!