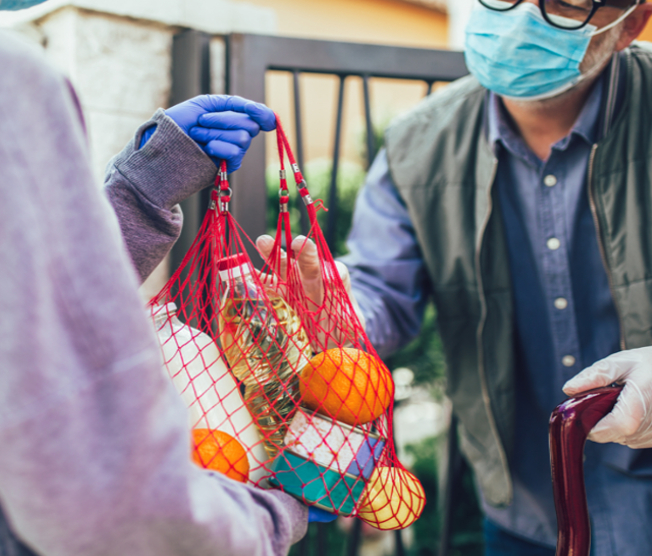 Buying groceries is an essential task for all adults. However, this mundane chore may become more difficult to accomplish as we age.
Grocery stores can be very busy and chaotic, especially during the holiday season, making it harder and potentially dangerous for older individuals to navigate. For seniors, this errand may become a physically demanding task that requires assistance.
Here are some helpful tips for stocking your pantry, refrigerator and freezer.
Go Early In the Morning
Particularly during the COVID-19 pandemic, many grocery stores have set dedicated shopping hours for seniors and others at increased risk. Going out earlier can prevent much of the unwanted stress that comes with crowds later in the day.
With less customers, store associates should also be more available to help seniors find items, reach high shelves and lift heavy objects.
Try Online Delivery
If moving around, driving or leaving the house in general is a challenge, consider grocery shopping online. Many major companies offer this convenient service, including Walmart, Stop & Shop and Whole Foods.
Simply fill your virtual cart on the website, enter your payment information and have the products delivered right to your door! Some companies also offer same-day delivery.
Plan Ahead
Writing a list before you head to the store can be extremely helpful. Going in with a plan can take less time, reduce stress and ultimately make the experience easier. Less time roaming the aisles also means less strain on aging joints!
Plan your meals for the week ahead of time, so you know exactly what ingredients are needed. Ask an associate where certain items are located to save even more time.
Hire Home Care
Help at home with daily tasks and running errands can be very beneficial. Having a caregiver to go to the grocery store and cook meals can be helpful, especially during this pandemic.
Home care professionals may have an easier time remembering what needs to be bought, comparing prices and can help seniors avoid potential injuries that may result from:
Pushing a heavy shopping cart
Reaching items on high shelves
Loading grocery bags into the car
Unloading bags and stocking shelves
Consider Meal Kits
Amidst the pandemic, seniors who live alone may not be seeing their loved ones. If a daughter or grandson regularly cooked meals each week but is now in quarantine, consider signing up for a meal delivery service.
You can either receive the ingredients for nutritious meals to assemble yourself or select pre-prepared dishes to heat up.

When it comes to daily activities like grocery shopping and cooking, there are many ways to support seniors. Avon Health Center is one resource, dedicated to providing the best care to our residents. To learn more about admission to our skilled nursing facility, contact us today.