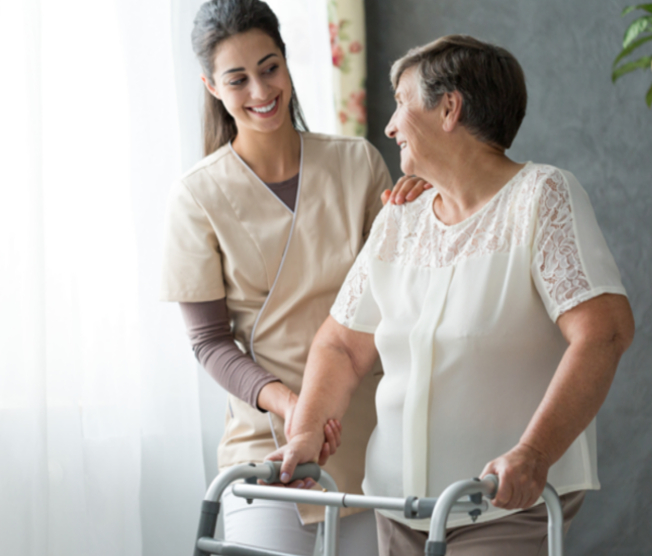 As we age, the likelihood of an emergency room visit increases. For older adults, health complications like heart disease and stroke can lead to these visits, as well as falls. In fact, falls are the most common cause of injury and reason for ER visits among seniors.
A safe living environment can help prevent these incidents that often require medical attention. Learn how a skilled nursing facility can provide security for your loved one.
Round-the-Clock Care
The staff at Avon Health Center is available to our residents around the clock. They regularly monitor vital signs, assist with Activities of Daily Living and can administer medical services.
This level of assistance can help prevent common accidents that often occur when seniors are alone at home. Many of these accidents happen while performing everyday activities such as bathing, dressing and feeding.
Our staff members are certified and prepared to help seniors safely accomplish these tasks and experience a better quality of life.
Safety Equipment
The safety features at Avon Health Center support an environment where seniors can feel safe from potential accidents. Rooms are equipped with electric beds and easy access to help when needed.
Throughout the facility, residents will find grab bars, handrails and anti-slip flooring to help make movements easier and safer. These preventative measures can be particularly crucial for dementia patients, who may be prone to wandering.
Wellness Support
It's important for seniors to maintain a healthy and well-balanced diet to help decrease the risk of certain diseases and deficiencies. The staff at Avon Health Center is prepared to monitor meal intake, observe and assess nutrition problems. Our in-house Registered Dietitian evaluates each resident's dietary needs to help optimize nutritional well-being.
Medication management is another benefit offered by our skilled nursing facility. Qualified staff oversees the distribution, dosage and safe storage of all resident medicines to avoid bad drug interactions and manage side effects.
On their own, it's common for seniors to forget or take a certain medication twice. This is one important way in which medication management can prevent emergency room visits.

Especially during the COVID-19 pandemic, it's crucial for older individuals and those with pre-existing conditions to avoid hospital settings whenever possible. To learn discuss if Avon Health Center is the right choice for your aging loved one, contact us today.