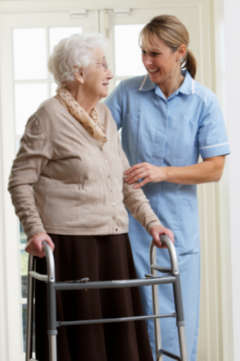 At Avon Health Center, we emphasize the importance of therapeutic recreation for all patients and residents. Maintaining a healthy lifestyle improves the quality of their stay and reassures families that their loved ones are enjoying favorite activities once again. Our recreation calendar changes monthly, but we encourage the following five activities that are low-impact and offer many benefits to seniors.
1. Bocce Ball
In this game, single players or teams try to get their bocce balls closest to the "jack," or smaller ball, down the court with underhand throws. The objective is simple and very little physical exertion is required. Another great benefit of bocce ball is that our short-term rehab patients who may be in wheelchairs are not restricted from playing this low-impact game.
2. Cards and Board Games
When our senior relatives were younger, there were no smartphones, tablets or video games. For fun, they would get exercise outside with the neighborhood kids and play cards or board games at night. Bringing these classic games into a skilled nursing facility is not only nostalgic for our residents, but also keeps the mind working and encourages interaction.
3. Gardening
People of all ages can enjoy gardening, whether it's planting flowers, weeding or harvesting fruits and vegetables. For seniors, gardening is a therapeutic activity that gets them outside of the facility and in the calm of nature. Not only is gardening relaxing, but it keeps up a senior's endurance and improves flexibility through the bending and stretching.
4. Shuffleboard
Although shuffleboard can be played inside or on an outdoor court, indoor table shuffleboard makes it more accessible to seniors of all fitness levels. The object of the game is to push your weighted pucks into the scoring area on the opposite side. Shuffleboard improves reflexes and reaction time, without the physical exertion of a high-impact sport.
5. Tai Chi
This activity is based on ancient Chinese martial arts moves. Today, the modern adaptation is practiced by many older individuals for its health benefits and low-impact on the body. The slow choreographed movements of Tai Chi can help ease joint pain, improve balance to decrease fall risk and calms the mind, body and spirit from everyday stress.
Are you searching for a skilled nursing facility where your aging loved one can remain active? Contact Avon Health Center today to begin the admission process!