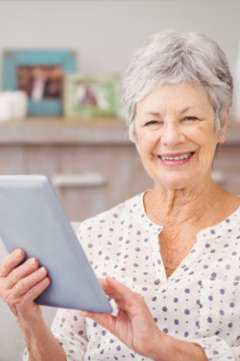 When our grandparents were growing up, they did not have smartphones, tablets or GPS navigation systems. They played outside with the other neighborhood kids and learned to read maps for directions to a friend's house. Today, technology has evolved so much that it is almost always at our fingertips. Although the older generation may be resistant to follow this trend, seniors can benefit from learning to use technology.
Why is it important for seniors to be educated about the latest technologies?
Stay Connected
A tablet makes a great birthday or holiday gift for an aging senior for several reasons. For one, they can stay connected with old friends and younger family members who may live far away. Using email, they can check in with a busy nephew and social media platforms like Facebook let them see pictures of their grandchildren.
Keep the Mind Working
Seniors can also play their favorite games on a large, easy-to-use touchscreen. Smartphone applications like Solitaire, Scrabble and Luminosity keep their brains functioning with age. These electronic games also encourage social interaction. A grandma can challenge her grandson to a game of Boggle with the touch of a button!
Be in the Know
Every morning, your loved one may be used to physically holding the newspaper in one hand and a cup of tea in the other, but news is easily accessible on the internet. He or she can browse articles from a variety of news sources or sign up for an online subscription to receive the latest news, often before the newspaper is even printed.
Keep Safe
Lastly, seniors who live on their own can be forgetful or start to wander off when left alone. Luckily, there are smartphone applications that remind you when it's time to take medication or have a prescription refilled. Plus, for those showing early signs of dementia who may go for a walk down the street and forget where they are, GPS tracking helps the family find them with ease.
If you're seeking nursing home care for an aging loved one, consider Avon Health Center. Contact us today to learn more about the admission process!