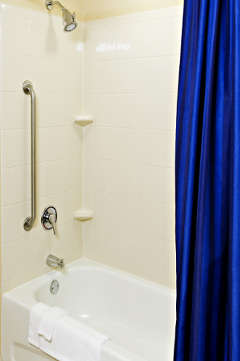 Did you know one in every four adults over the age of 65 experience a fall each year? Unfortunately, every 19 minutes, injuries from falls prove to be fatal for older adults. Falls are the number one cause of hospital admissions for seniors, accounting for almost 3 million cases. Many of these injuries occur at home, when a senior lives on his or her own. If your aging loved one lives alone, but may be at risk for a fall, how can you help keep the environment safe and reduce chance of injury?
We offer tips to safeguard the bathroom, kitchen and bedroom.
Bathroom
This room of the house is very common for slip and fall accidents because the space can be cramped and the floor often gets wet. When you walk into the bathroom of a senior's home, there should be non-slip mats on the floor in front of the sink, tub and toilet. In the shower, make sure to install the following equipment:
Grab Bars: To help prevent falls while in the shower or when getting out of the bath, grab bars offer more support than a towel rack or the wall, which can both become damp with moisture from the steam of hot water.
Benches: If your aging loved one gets tired while in the shower, a bench is a safer option than sitting on the edge of the tub. These seats can also help seniors get out of the tub, so they avoid balancing on one leg.
Lever-Handle Faucets: Traditional round faucet heads can be hard to grip, especially when wet. Levers are the more modern choice because they offer optimal support and require less strength to turn.
Kitchen
As we age, climbing on a chair or stool to get something off the top shelf becomes more dangerous. Seniors who live on their own risk a serious fall that could leave them without help for hours. One way to prevent seniors from reaching for items that are high up is to install pull-down shelves. This mechanism can be placed in a cabinet and brought down a tier when you need to grab something from the shelf.
Another way to reduce slips and falls in the kitchen is to update the lighting design. Many older homes have old, recessed lighting with no dimmers. LED bulbs save energy and make it easier to see, while dimmer switches allow you to make an area brighter or duller.
Bedroom
Beds are a common culprit of serious fall injuries. Whether a senior has a muscle disorder, brittle bones or simply cannot get up without help, bed rails can act in place of another adult and offer the support needed to get in and out of bed. Believe it or not, a bare floor is safer for your senior to walk on than throw rugs, which are trip hazards. If he or she wears socks or slippers around the house, be sure they have grippers on the bottom.
If you're worried about the safety of your aging loved one who lives alone, skilled nursing care is an option. Contact us today to learn more about admission to Avon Health Center.