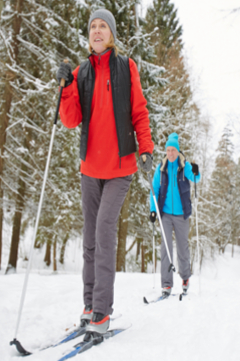 No matter how long you've lived in New England, it can be difficult to adapt to winter weather each season. The snowstorms, ice, freezing rain and sub-zero temperatures can make life gloomy for some.
While younger people have a stronger resistance to the cold, seniors need to take precautions to stay warm and avoid any issues related to cold weather.
This winter, try these tips to keep comfortable and healthy.
Wear Layers
Layers of clothing, including sock liners, thermal underwear and tops, sweaters, scarves and heavy shirts can help keep your body warm.
A lot of body heat is lost through the feet and head, so wear slippers and a cozy knit cap – even while inside.
Keep Your Home Warm
Saving money on your home's energy consumption is tempting, but not at the expense of your health. As a rule of thumb, keep your thermostat set no lower than 68 degrees.
If your home is well-insulated, you may be able to drop down a few degrees but if not, spend the extra money to keep warm this season.
Eat Comfort Foods
When the outside temperature is below zero, ice cream, cold salads and iced coffee may not sound tempting. During winter, it's important to eat foods that warm up your insides.
Hearty soups, meatloaf with gravy and other comfort meals served warm will give your body nutrients and warm you from the inside out.
Stay Active
It can be hard to stay motivated during the winter months, but exercise is essential to keep the blood circulating. Leading a sedentary lifestyle can lead to plaque buildup in the arteries, which makes it harder for blood to move throughout the body.
When the outdoor temperatures are freezing, try some light indoor stretching and low-impact routines. On a more mild day, get together with friends for a brisk walk around the neighborhood. If you belong to a health club, swimming is another excellent way to keep your body active in winter.

The residents at Avon Health Center participate in therapeutic recreation to keep busy and improve quality of life. To learn more about admission to our facility, contact us today.